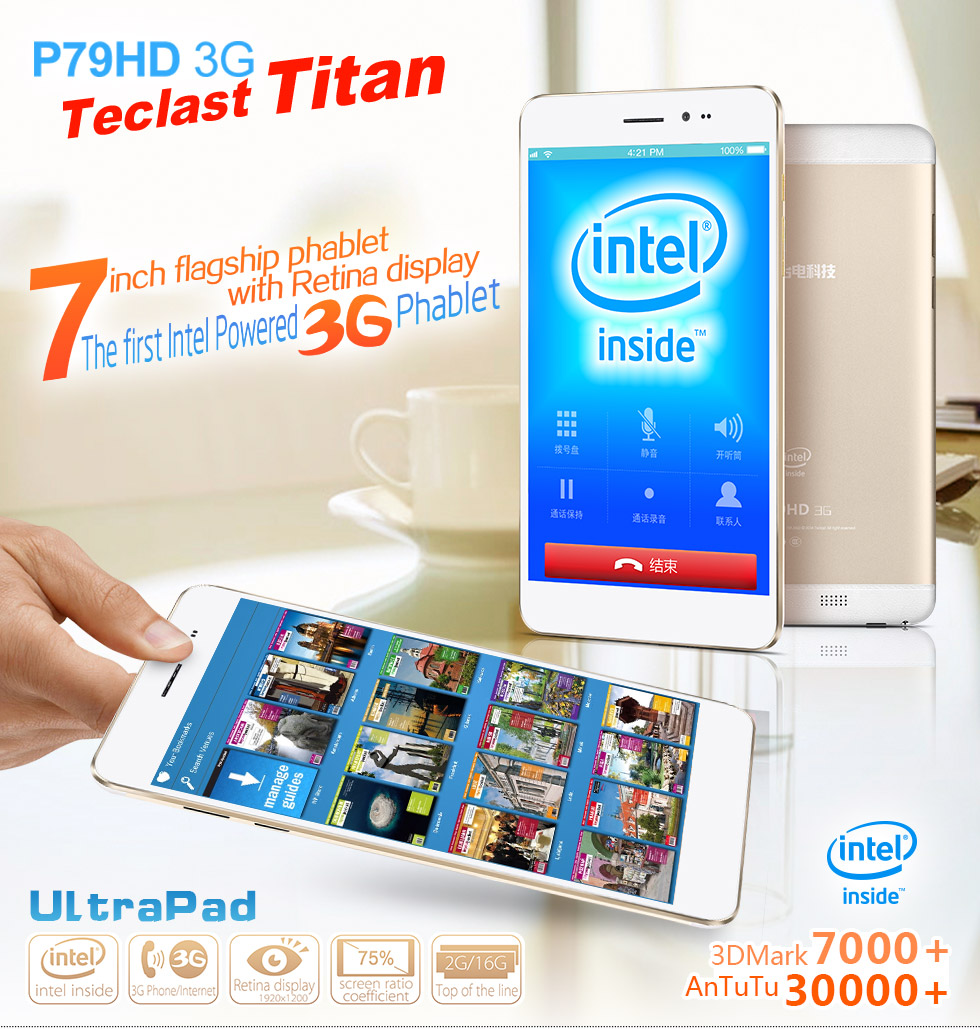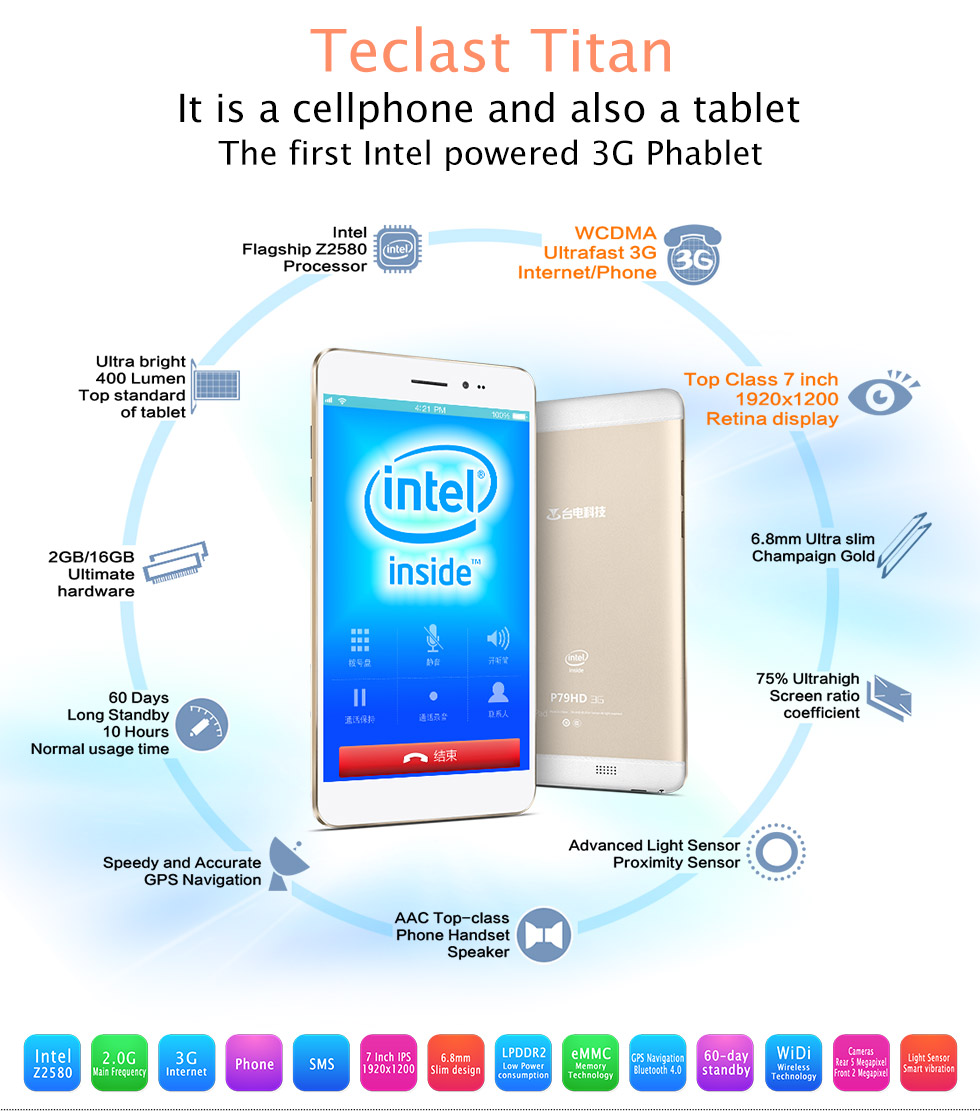 Built-in standard SIM card slot supports WCDMA/GSM dual mode, you can experience the extremely clear voice phone calls and ultrafast 3G internet connection brought by Teclast P79HD 3G.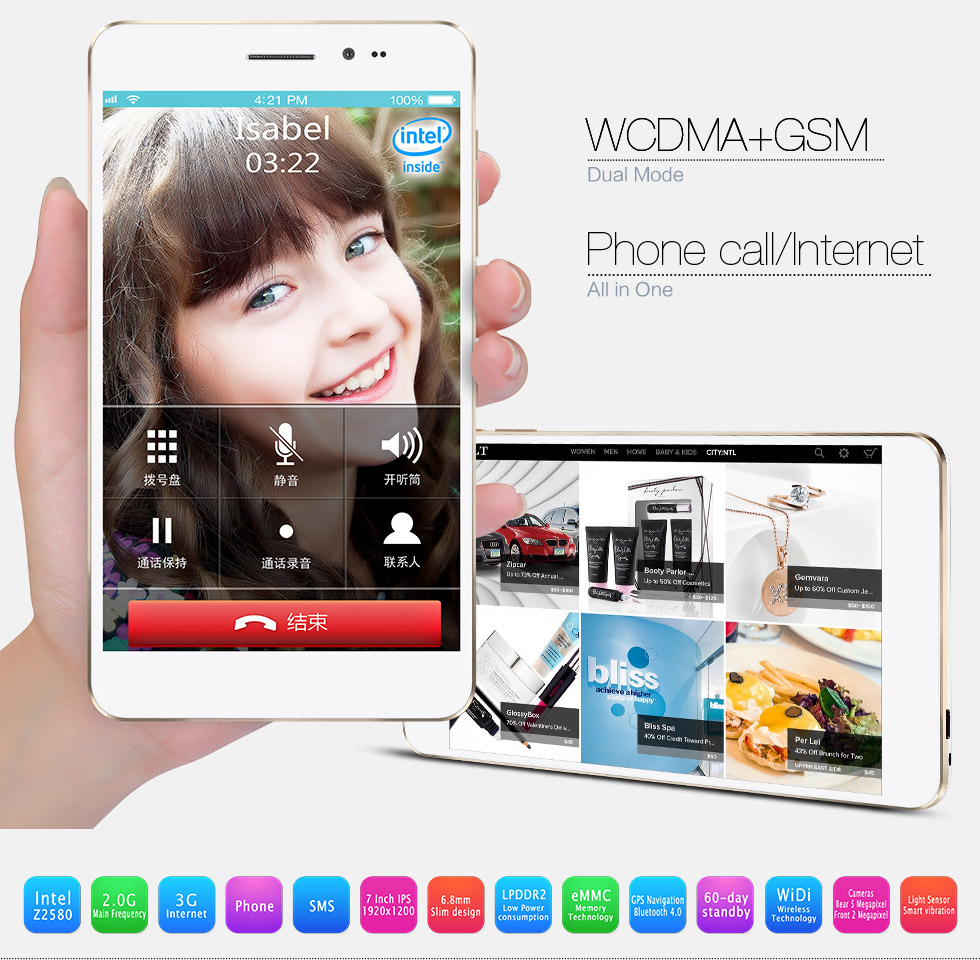 The original 7 inch IPS Retina display provides vivid color display and faster monitor response time. Plus the 1920x1200 Full HD Resolution and ultra bright 400 Lumen, the display is so clearly exquisite.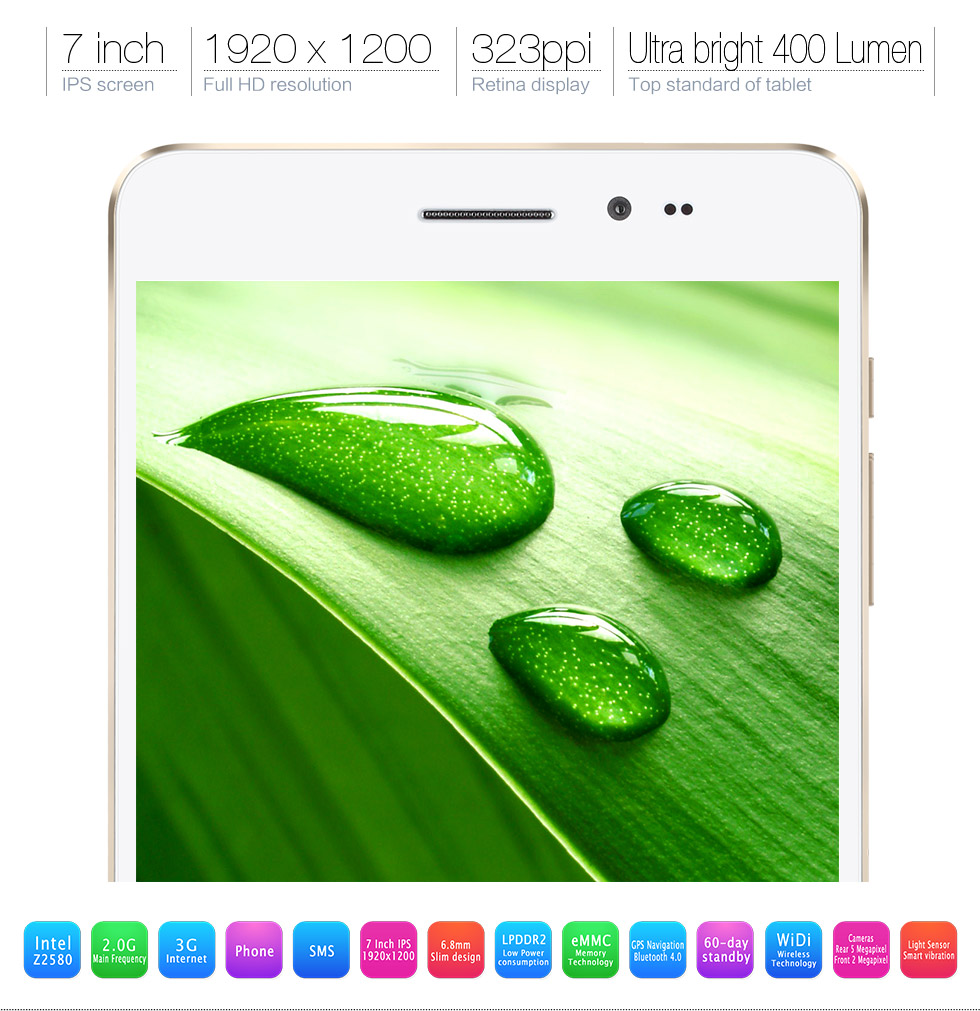 A well-crafted 3.9mm ultra-narrow bezel enables Teclast P79HD 3G
to achieve 75% screen proportion. The 6.8mm slimmest champagne gold colored figure reveals its nobility and it is comfortable to hold.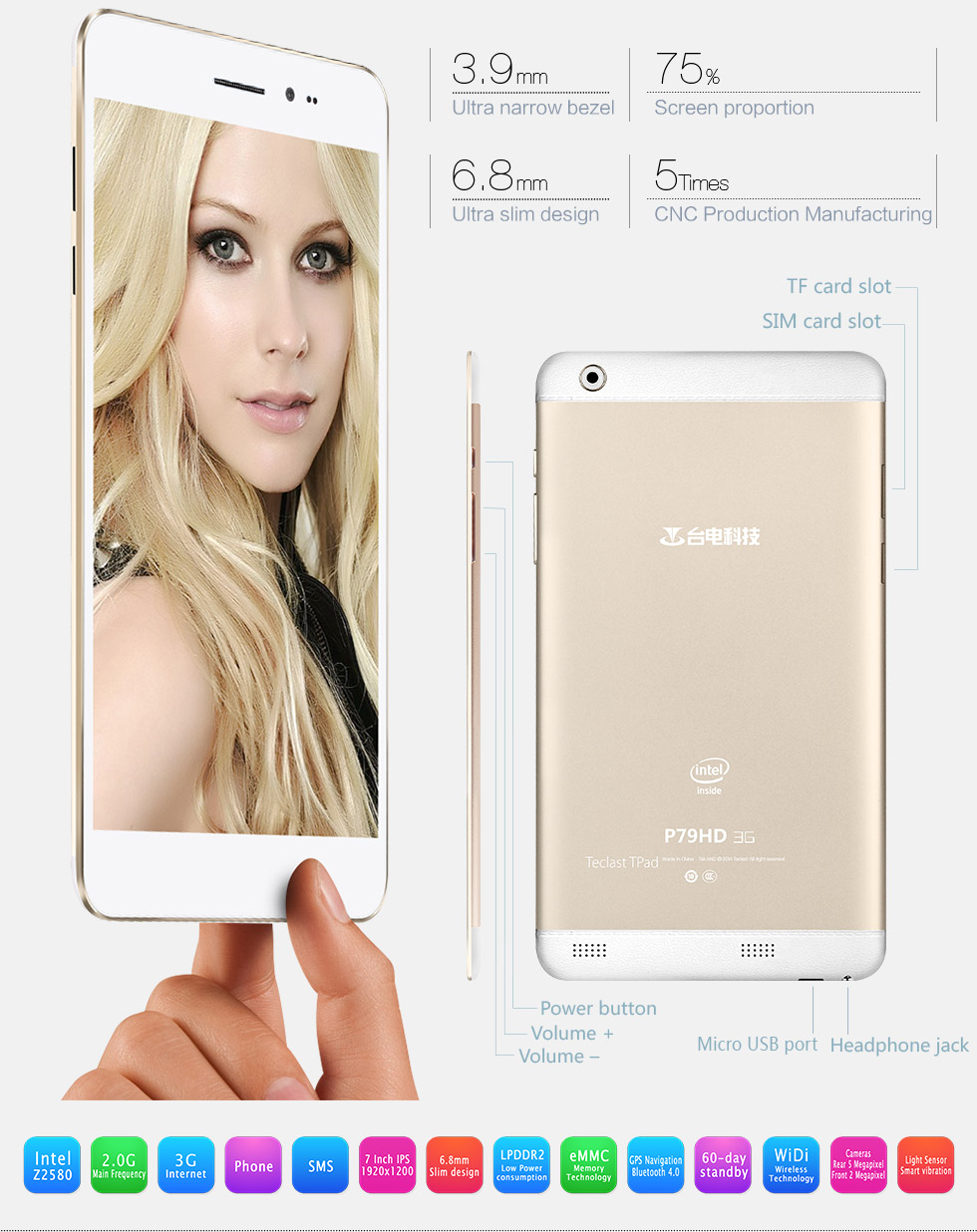 As powered by the Intel's flagship Z2580 processor, the OS runs extremely smooth on P79HD 3G. Switching between different apps is smooth without any delay. This is how Teclast defines Titan Class on a phablet.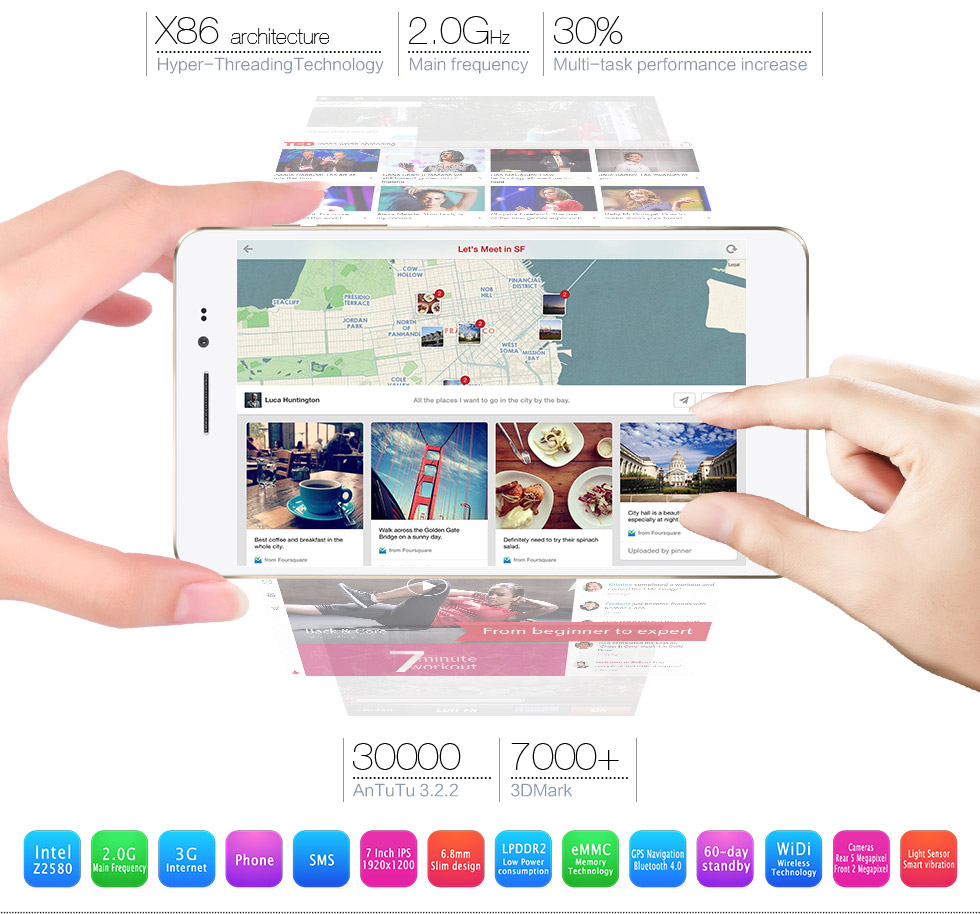 Built-in 2GB Low Power DDR2 RAM plus 16GB eMMC storage deliver
Titan Class memory stability and longer battery life.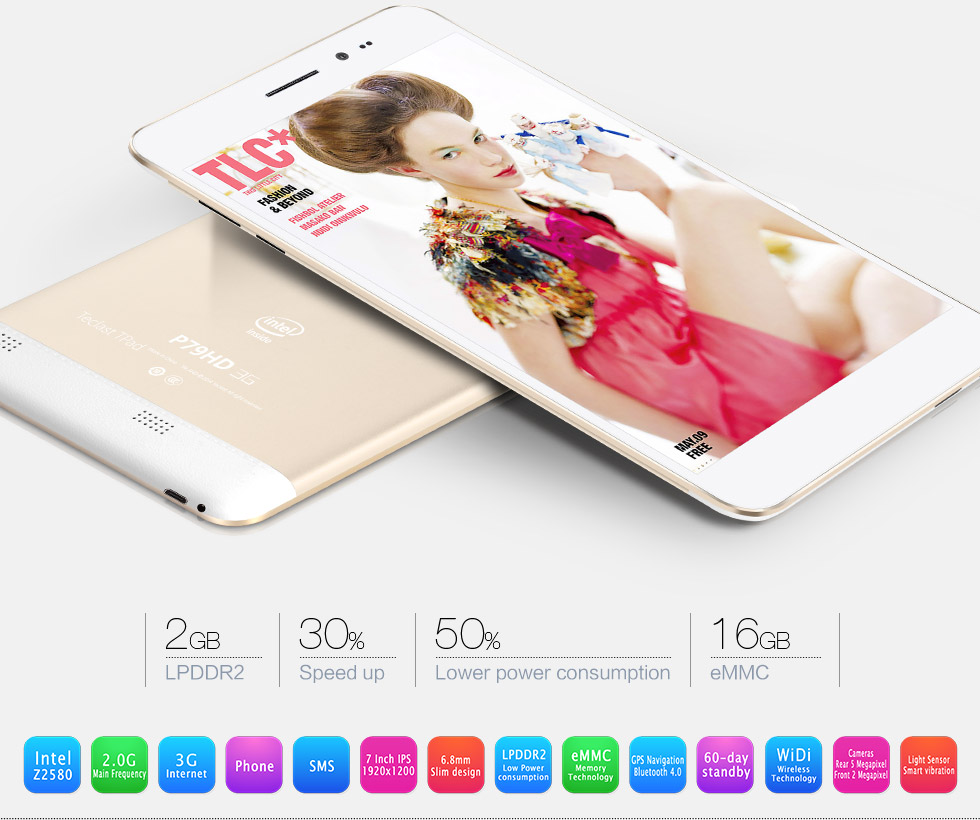 P79HD 3G achieves Titan Class 60 days standby and 10 hours normal usage time by introducing Intel's Burst Performance Technology and built-in 3500mAh lithium polymer battery. It is the best battery life performance of mainstream 7-inch tablets.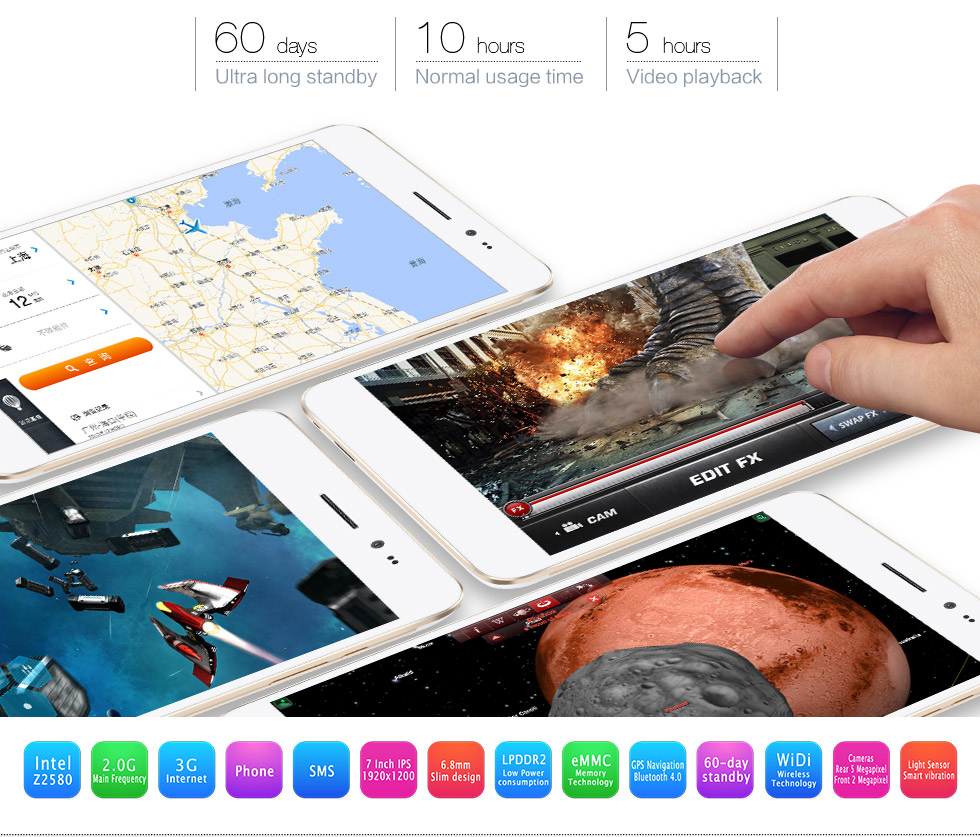 P79HD 3G uses American OV's 5-megapixel rear camera with autofocus. The new generation of image processing engine improves the camera's overall imaging quality. It is easy to take quality photos.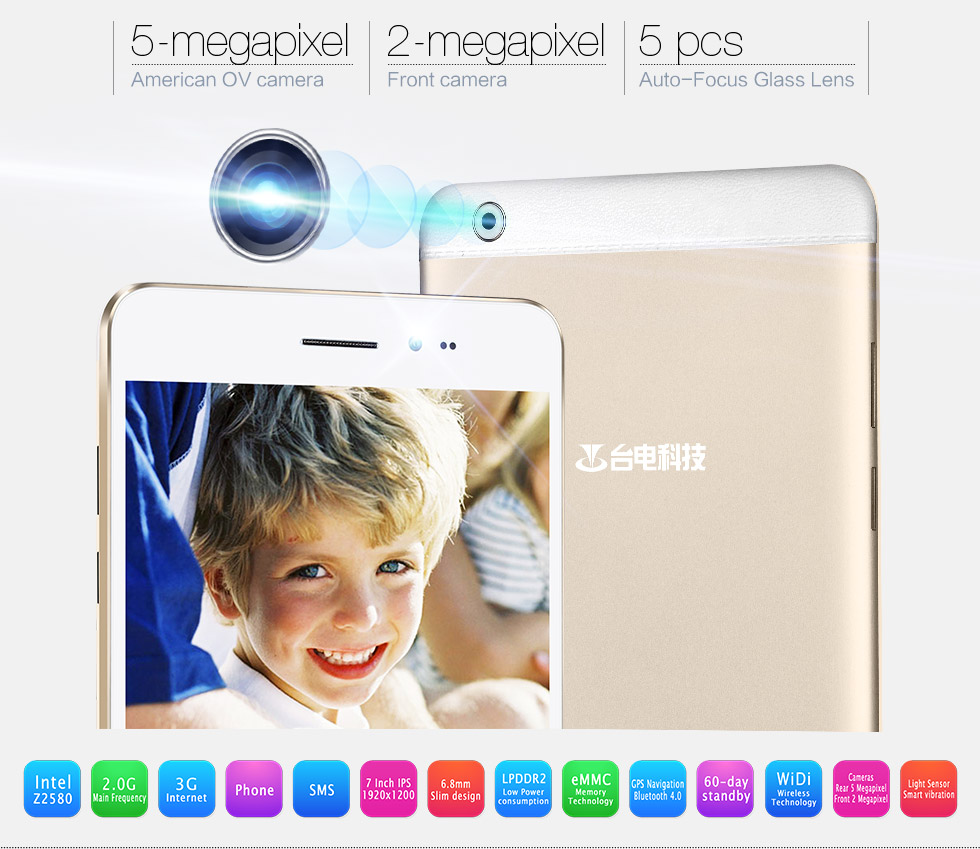 By introducing Intel's exclusive WiDi technology, you can wirelessly share the tablet's screen to other devices with low latency. This technology is compatible with above 95% of Android applications. It is your best assistant for office working and daily life.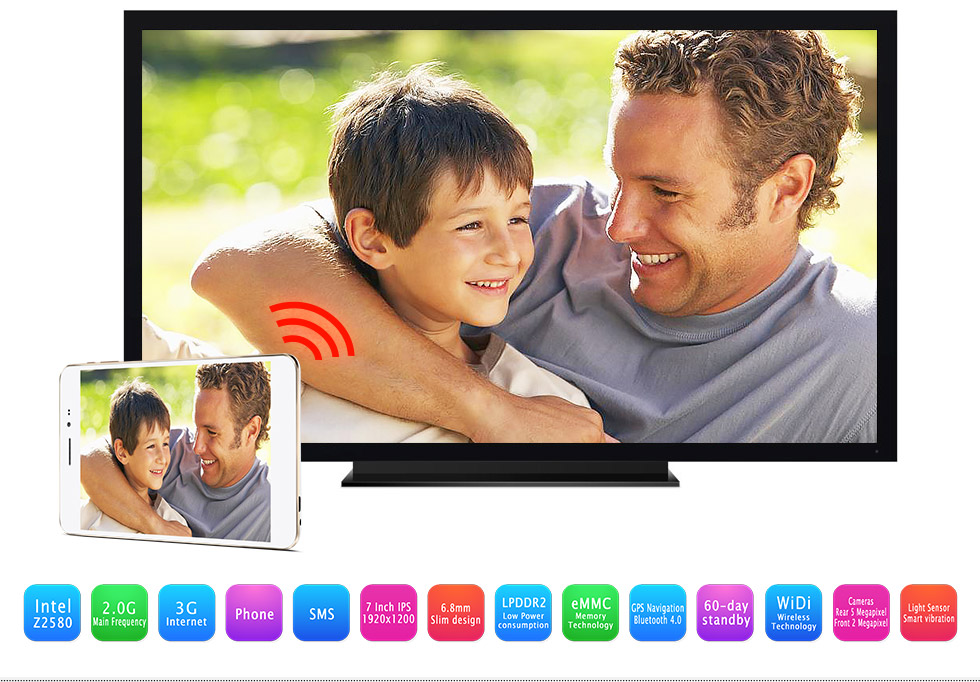 Top class GPS chip and antennae provides fast and accurate navigation for you.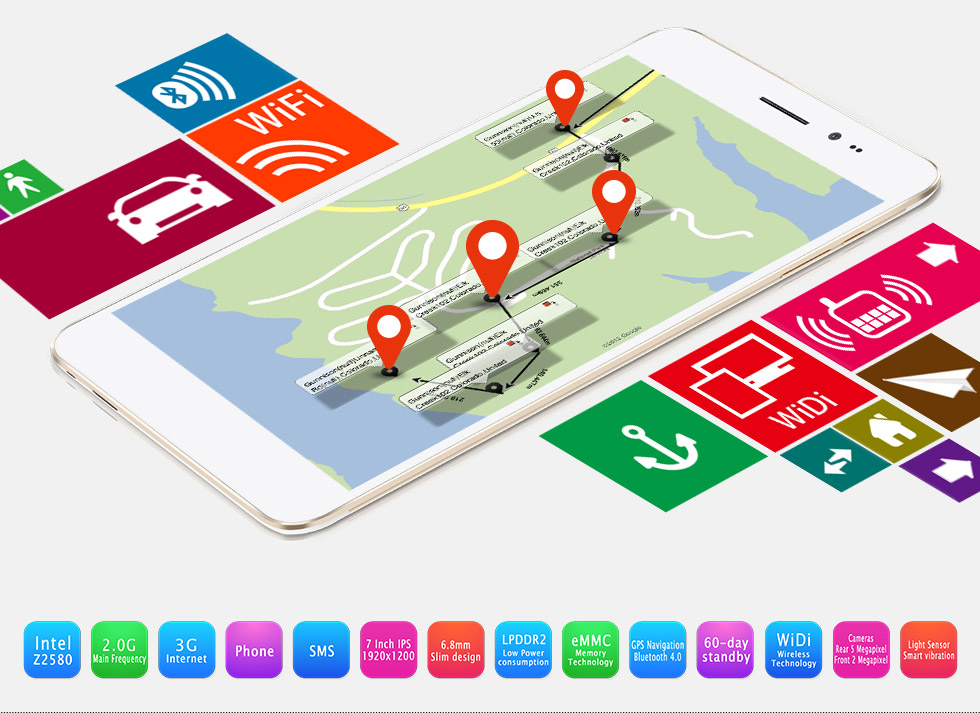 tUI was developed by Teclast to achieve smoothest touch response experience. It brings many operational improvements such as dynamic function icons, custom folders and first level menu design to the original Google Android.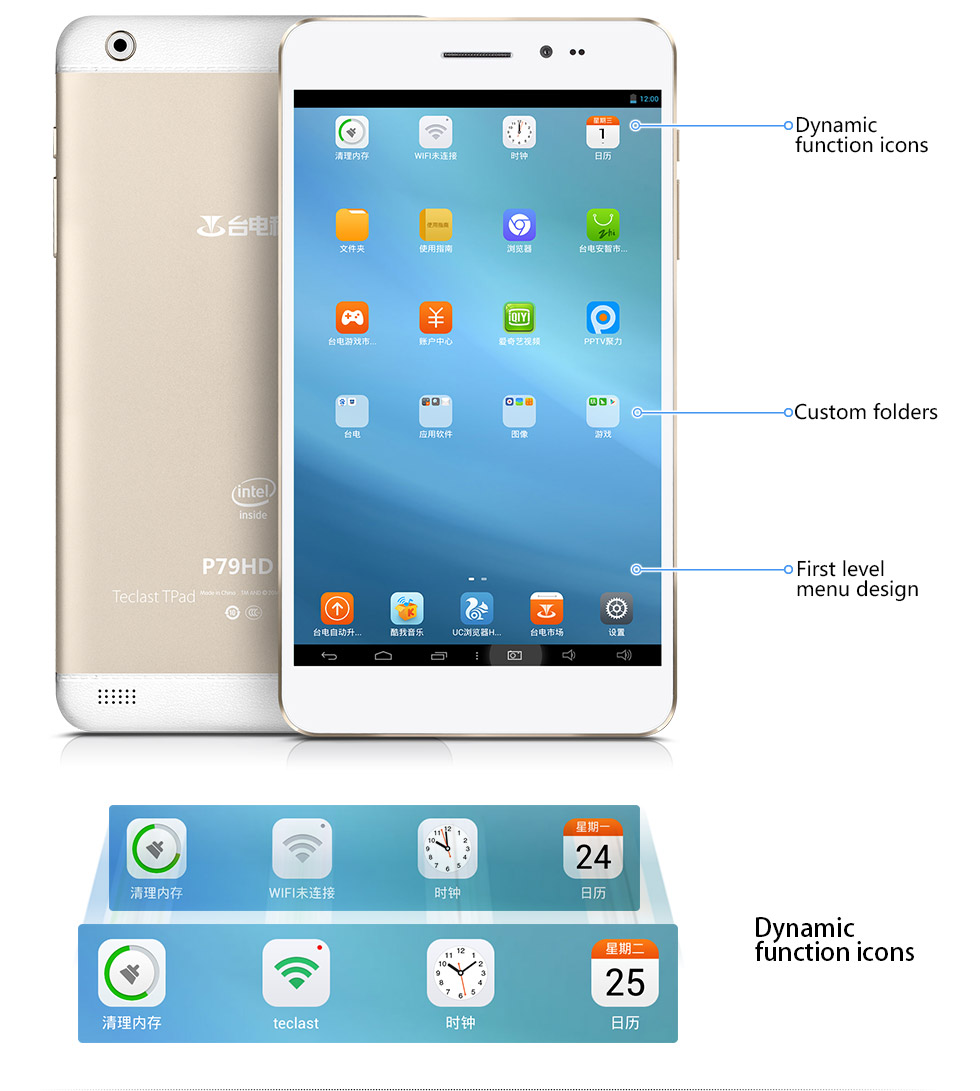 Teclast cooperates with Intel to fully optimize the Android OS. By utilizing the processor's performance and introducing dynamic memory management system, all the apps and games ran on P79HD 3G are extremely smooth and stable.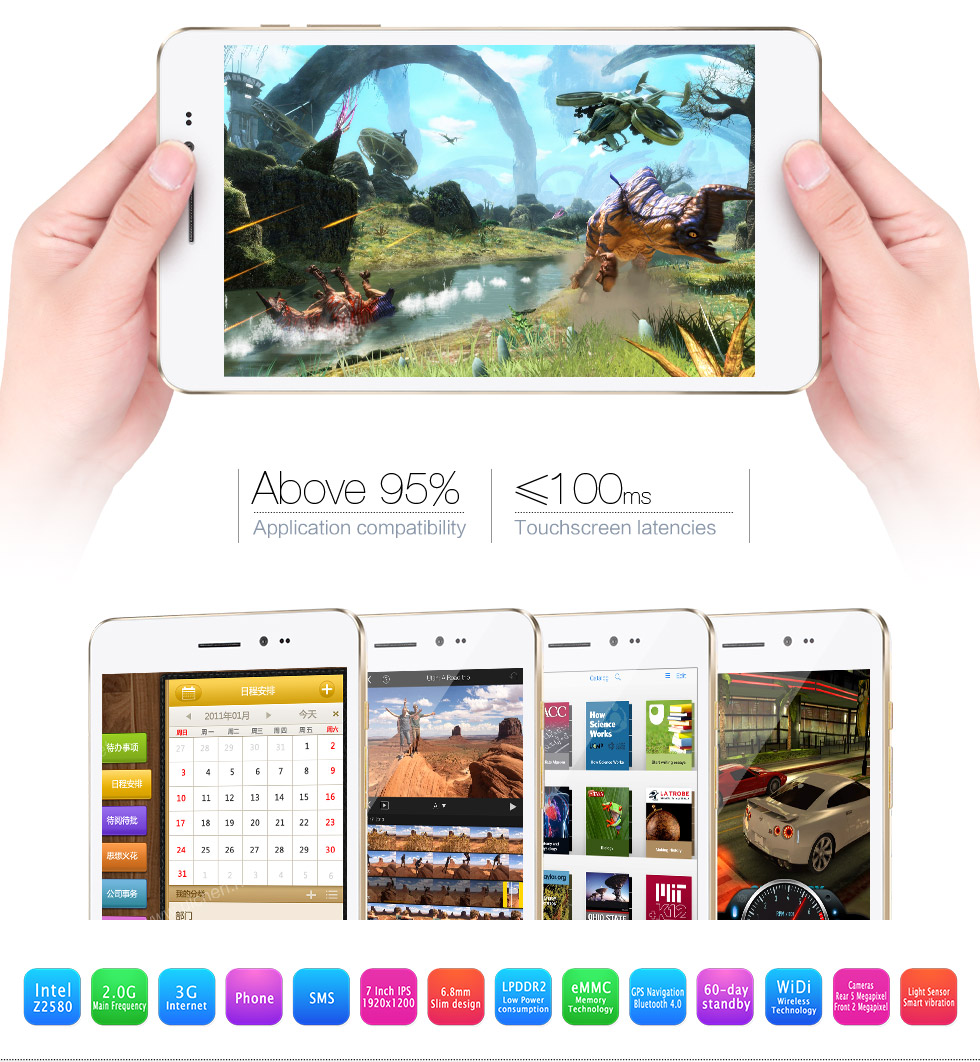 Teclast set up its own OTA update center for its users to simplify the firmware upgrade procedure. You can easily upgrade your Teclast's device to the latest firmware by simply press a button.